Hello, YEBOhood!
Today, we're highlighting a collection of short podcasts, as well as the incredible partnerships that helped to make them happen.
In the winter/spring of 2019, we collaborated with Radian Architecture to co-facilitate their 20-week Imagine the Possibilities program (ITP) at Garden Place Academy (K-5) in the Globeville Elyria Swansea neighborhoods of Denver.
Radian is a non-profit architecture and urban design firm that focuses on how people occupy space by introducing creative solutions to systemic barriers impeding the growth and flourishing of local communities.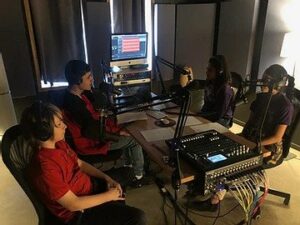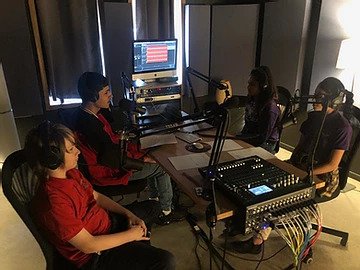 ITP students recording at AMPED studio
In the ITP program, 15 fifth-grade participants engaged hands-on workshops and embarked on field trips to develop an understanding of links between civic engagement, the built-environment and health, civic-capacity, and sense of community and place.
YEBO supported students with creating a series of short podcasts that aimed to articulate what students were learning in the program as well as define their vision for a healthy, safe, and just community.
Students visited the studio of AMPED and House of Pod to learn how to record in a professional environment. AMPED is an amazing Denver-based non-profit that is dedicated to training creators to tell their own stories through digital media and to produce educational audio content for listeners of all ages.
YEBO youth ambassador and coach, Isaiah Jiron (aka ITSMESIMBA)
Isaiah Jiron joined our team as a youth ambassador and a podcast coach for the the students. Isaiah (19 years old) is a youth entrepreneur who developed his own brand called ITSMESIMBA, and he podcasts, vlogs, blogs, and is launching his own non-profit. Needless to say, Isaiah is an awesome person for young people to look up to.
Together, the students and Isaiah produced five pieces that documented their essential understandings from some of their field trips and tackled topics such as health and safety.
Below are the links to each episode, as well as a link to YEBO's Soundcloud page. Enjoy!
Tiny Town Podcast